Greening Tower Hamlets
We partnered with Wilder Communities and Tower Hamlets Homes to create green corridors at the Malmesbury Estate in Tower Hamlets, London, for both residents and wildlife to enjoy. This new urban greenery will provide wildlife habitats in the area for threatened species highlighted in the borough's Biodiversity Action Plan, such as bats, hedgehogs, wild bees and frogs.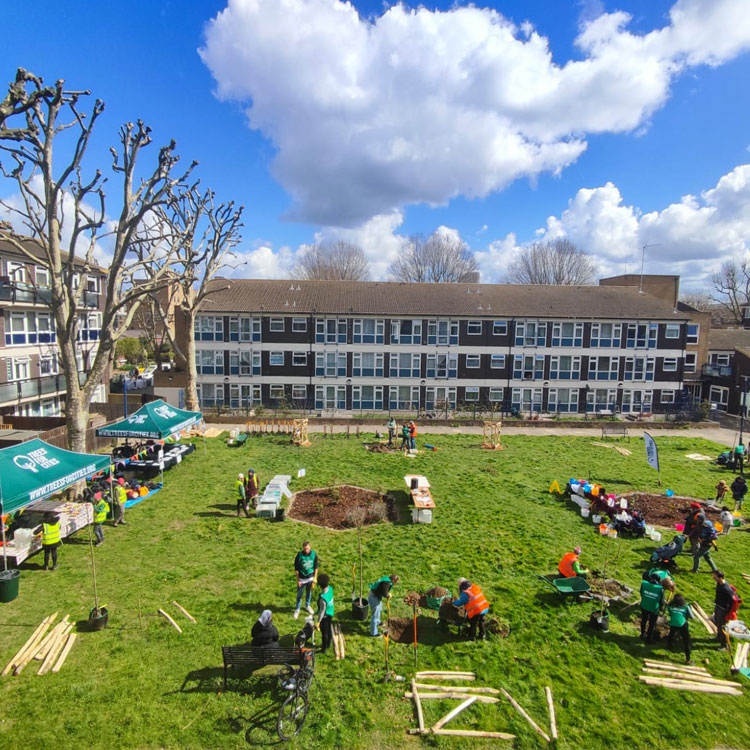 Tower Hamlets has one of the lowest tree canopy cover densities across all of London, so we were keen to support the estate by doing what we do best - planting urban trees! We were able to start the planting process in October 2021 and by April 2022, we had planted a total of 20 standard trees, 4,000 bulbs, 360 whip trees and an orchard made up of 10 fruit trees.
During this time, planting became embedded in the community with local residents often getting stuck in to help plant. It was thanks to the help of local residents, school children and corporate volunteers that we were able to transform the Malmesbury Estate to a healthier and greener place to live!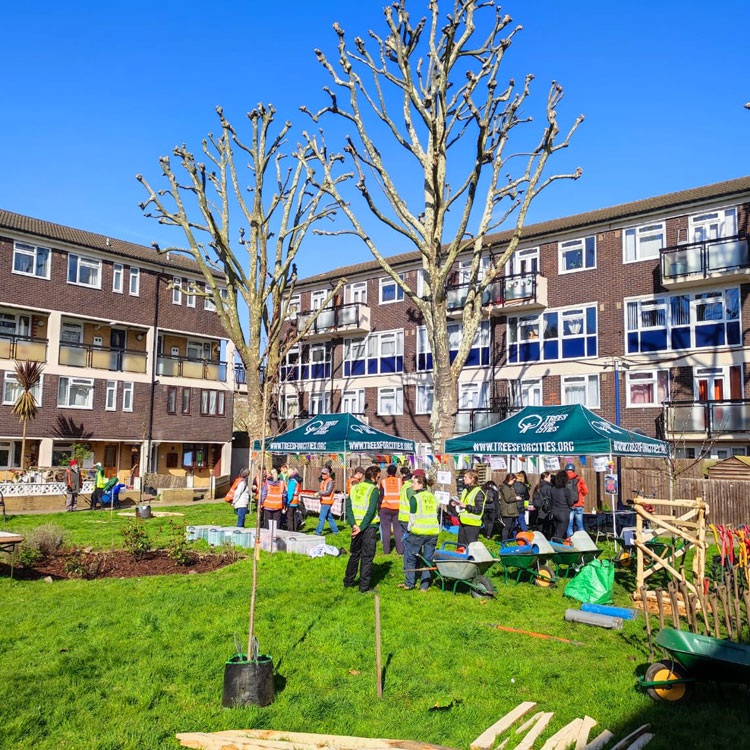 Of participants said that they had learnt something new or developed a new skill at our planting day at Malmesbury Estate.
Since the planting, we've noticed quite a range of different insects: grasshoppers, butterflies, bees and ladybirds, all in space that was previously just concrete or tarmac! Because of the planting, we have been able to introduce habitats that these critters actually depend on and can flourish. It's really a dual benefit for both the residents, but also to wildlife.
James Clark, Trustee at Wilder Communities
Thanks to our Partners
Wilder Communities

Tower Hamlets Homes
Thanks to our Funders
D'Oyly Carte Charitable Trust

Square Root

Wilder Communities (grant from Tower Hill Trust)

British Standard Institute Group

Price & Myers

Martin Wills Wildlife Maintenance Trust

Ernest Kleinwort Charitable Trust

Nineveh Trust

Wilder Communities (grant from Tower Hamlets Homes Inspiring Communities Fund)

LVMH Fragrance Brands

Span Trust

Ipsos